EqoCycle
Reduced ecological footprint thanks to recycled content
EqoCycle yarns are 100% recyclable PA6 yarns, made with 75% recycled content. EqoCycle yarns help carpet manufacturers reduce the carbon footprint of their products and move towards a circular solution.
Your benefits:
Reduced ecological footprint
Perfect quality
Unlimited color & design possibilities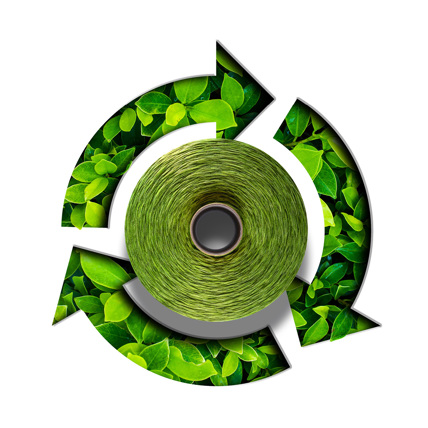 Circular solutions

for a better future
By including EqoCycle in your carpet designs, you not only help to reduce waste, but you also help to reduce carbon emissions. This way, EqoCycle is the ideal solution to help you meet your sustainability targets faster and more efficiently.
With EqoCycle recycled content yarn, carpet manufacturers finally have a powerful, circular alternative that does not compromise on performance and quality.
EqoCycle is made with recycled granulates derived from pre-consumer recycled and regenerated PA6. By cutting down on virgin materials, we can:
Reduce fossil fuels with 58%
Reduce energy consumption with 27%
Reduce CO2 eq./kg by 37% compared to the fossil based yarns
Numbers that count
If we compare conventional PA6 made from virgin materials with EqoCycle, then every 1.000 tons of EqoCycle yarn will:
Save 13.562 barrels of oil
Save 2.700 tons of CO₂ emissions
The environmental impact of EqoCycle with 75% recycled content was calculated through an LCA analysis, verified according to ISO 14025 and EN 15804+A1 and published in an Environmental Product Declaration (EPD registration number S-P-02415).
EqoCycle PA6 yarns: how are they made?
EqoCycle PA6 yarns are made of post-industrial, chemically recycled PA6 waste which has been recovered for recycling prior to use by the consumer. This means the yarns are made from pure production waste.
Polyamide 6 is a fully recyclable material that can be used and reused infinitely in various applications. PA6 is produced by polymerization of caprolactam, an organic compound. PA6 waste can then be depolymerized again into its raw material caprolactam. This can be used to make new recycled granulate and in a next step PA6 yarns.