5 questions you need to ask before comparing EPD reports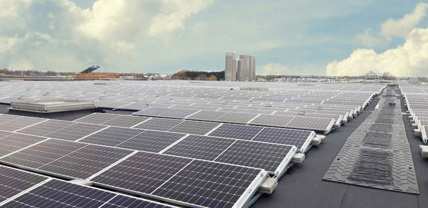 The EPD is a great instrument to demonstrate the environmental impact of a product. It's an essential selection criterion if you want to buy green. However, not all EPDs are created equal. When comparing different EPDs, you easily risk coming to false conclusions. To help you avoid this, here are five questions you need to ask before reading your EPDs.
Sustainability is a given in today's building sector. If you are an architect or a designer, you will want to know the environmental impact of the materials and components you are using in your building, so you can make a reasonable estimation of their combined impact. The same logic applies if you go further upstream in the product chain. If you are a carpet manufacturer for example, you will want to know what the environmental impact is of the most important component of your product: the yarn.
Just read the eco-label, right? (Well, no.)
Sure, there are ecolabels around that demonstrate how green products are. Manufacturers and marketeers have stopped at nothing to create a sprawl of green labels during the past decades. However, the line with greenwashing is sometimes thin. Not all eco-labels are relevant, accurate or even verified, in demonstrating their environmental impact.
So, what's a well-meaning sustainable manufacturer or designer to do? How can you be sure that the product you are buying is sustainable? Fortunately, there is one internationally recognized and trusted source on a product's impact: the Environmental Product Declaration (EPD).


It's difficult to make sense of the sprawl of eco-labels created during the past decades.
The EPD is a registered document that provides qualifiable, transparent, and comparable information about the environmental impact of a product across its life cycle. It quantifies greenhouse gas emissions related to a product (in kg CO2 eq.), as well as other environmental performance indicators, such as the use of energy, raw materials and waste. EPDs offer customers a reliable way to compare products and thus buy greener. There are a few reasons why EPDs are a trusted source of information:
EPDs provide transparent information, based on international & European standards
EPDs apply a standard of comparison between different products, taking into account the most significant environmental aspects of a product and showing objective and verifiable information about the environmental impact
EPDs are verified by a third party
EPDs are based on the analysis of the entire life cycle of a product
EPDs not only help companies to comply with regulations, but they also answer customer demands. Businesses want to know the environmental impact of the products they purchase, because it impacts their own footprint. They use EPDs from their suppliers to make their own EPDs.
Fortunately, more businesses embrace the appeal of the EPD, because they feel that bringing sustainable solutions to the market and measuring their impact is the right thing to do. It has become part of their company mission and purpose.



Organizations want to comply with regulations and answer customer demand, but they also measure their impact because they feel it's the right thing to do.
How to compare EPDs the right way: 5 questions to guide you
EPDs continue to grow in importance. However, making a sustainable buying choice based on EPDs is not always straightforward. You may think that it's just a matter of comparing EPDs from different suppliers and selecting the product with lowest environmental impact, but it's more complex than that. The problem is that not all EPDs are made equal. As a result, you risk comparing apples to oranges.
There are a number of questions you can ask yourself, which may prevent you from drawing the wrong conclusions. 
#1 Am I comparing products in the same category?
The EPD is using a standard method to compare the environmental impact of products. But that doesn't mean that you can just compare any product with another one. You also need to know whether they belong to the same product category. To correctly compare EPDs, they need to be developed using the same Product Category Rules (PCR), a set of rules that define how the EPD will be created for a specific product. Different PCRs mean different products or processes. For yarns for example, you should look for 'synthetic carpet yarn used for building purposes'. 
#2 Which life cycle are we talking about?
The strength of the EPD is that it's based on the analysis of an entire product life cycle, which consists of raw material extraction (cradle), manufacturing and processing, transportation, usage and retail, and finally waste disposal (grave). However, not all life cycle assessments (LCA) necessarily include      all five stages of a product's life cycle. There are two main ways to look at this:
Cradle to gate: This assessment type only considers a part of the product life cycle, namely from raw material extraction (cradle) to the factory gate (before it is transported to the buyer). These phases refer to the internal processes.
Cradle to grave: This is the full life cycle assessment from material extraction (cradle), over manufacturing and transportation, to the use phase and disposal phase (grave).
If you want to compare EPDs, you need to make sure they are making use of the same life cycle assessment method.


#3 Environmental impact? Which impact?
Buyers want to make sustainable choices based on the environmental impact stated in EPDs. The difficulty is that there are so many aspects of sustainability that it's easy to get lost. Granted, greenhouse gas emissions are high on the agenda nowadays, to say the least, but there are other important types of environmental impact as well. Obviously, there is a Global Warming Potential (GWP), but you will also want to compare other parameters, including among others:
Ozone Depletion Potential (ODP): stratospheric ozone layer reduction caused by a substance
Acidification Potential (AP): compounds that are precursors to acid rain
Eutrophication Potential (EP): the overabundance of nutrients in water (over-fertilization)
Hazardous Waste Disposed (HWD): indicators of waste generation
Material For Recycling (MFR): amount of materials that can be recycled
Carbon footprint is high on the agenda. But there are other important types of environmental impact as well.


#4 Who is the publisher of the EPD?
The question is not always, 'did they do their homework', but rather 'how did they do their homework?' In other words, it can be tricky to compare EPDs that have been developed by different companies in different countries. This can have multiple reasons. EPD owners and program operators, who publish EPDs,  may use different LCA software, apply different life cycle types (see cradle-to-gate versus cradle-to-grave), or use life cycle assessment methods based on different standards (ISO 14040, ISO 14044, ISO 14025, …).


#5 Are we comparing the right data sets?
You need accurate data to quantify your environmental impact. The data can either be collected first hand through data collection sheets (primary, internal data) or you can use secondary data sources, such as life cycle inventory databases. Sometimes, the data is not available yet, so you may have to rely on industry averages that are country dependent. As a result, reports based on different data sets may lead to large fluctuations in EPD results. When comparing EPDs, it's important to be aware of these potential differences.
The EPD – apply with caution
When it comes to reducing your environmental impact, you can't cut what you can't count. The EPD is the most transparent and objective way to know where you stand. For buyers, the EPD offers a trusted source of comparable information that they can use to benchmark suppliers. The calculation methods are common and credible thanks to inspection, review and monitoring by an independent verifier.
However, the story is complex. We should therefore use EPDs wisely, and not compare apples to oranges. With the six questions discussed above, you are well on your way to making the right buying decisions based on verified environmental impact.